i received this text message yesterday from an unknown number:
Pls watch Gma 7 24 oras, 6:30 tonight, Bishop Eli Pascua, UCCP Gen Sec speaking b4 d US Senate comtte hearing on phil political killings. <Pls pass> Thanks
i didn't know who the sender was. so i was thinking the sender was:
(a) a member of UCCP (which i also belong to), or
(b) a friend back in manila
i asked who he/she was but the sender did not reply back.
anyway, so i decided that maybe i should watch the news instead after work. i know who bishop pascua is and i also was curious.
i sure did catch bishop pascua but he served as a witness of some sort. and he was there just sitting though i did not quite catch what he had to say. maybe some other time though.
but i did some other things while i was in front of the tv. i took my camera and started snapping at whatever was of interest to me. and because my camera was running out of juice, i decided to take quite only a few ones.
please forgive me for the real poor quality of photographs. i'm no professional. so....
bing loyzaga and janno gibbs had said that they had been receiving death threats and had been stalked. then they had the police involved and they caught this girl. she's 17 years old and she says she has got this "relationship" going on with janno. though janno says that he knows the girl as one of his fans who goes to his shows and to his gigs. i don't know though what's the real score but i don't really care. (the stalker, by the way, is the girl whose face is hidden behind the pillow not the person smiling behind.)
the debate was not planned but mike defensor and alan peter cayetano did go ahead and join in. well, if i were to vote for one of these two candidates, i'd surely be going for cayetano. i don't like "tol" for all i care. he just seems like one of those "wannabe" politicians who... basta. i don't want to talk about this anymore. sorry 'tol. don't like you. not one bit. i won't be voting for cayetano though. i've not been able to register. hehe.
this is a member of the singing firefighters. there are four of them and they call their band The Firefly Band. haha. wala lang. just made me laugh. anyway, they go from one place to another wooing the crowd with their songs and at the same time telling them about what to do in case a fire breaks out. they would also be informing those who have been listening on what they should do so that a fire would not start up and eat up their house and their belongings. well, kudos to you firefly band!
sunshine cruz, the wife of actor cesar montano, speaks about the hardships that they are going through at present. cesar is running for senator for these round of elections. i personally do admire cesar for being an actor but not as a politician. i mean, senator? why don't you start by being a barangay captain first, or something? and now sunshine is saying that they are now having to make do with what they have and are having a hard time financing the whole campaign so much so that cesar montano wins. it was also mentioned that they now have realized that the world of showbusiness is a far cry from the world of politics. god. they only knew about that just now?
a couple of days back, the news told all about the raid of satur ocampo's home. they were there to arrest the bayan muna representative to the congress. and they are charging him of the murders which happened years and years back. i'm not so aware of what really happened but if it happened that so long ago, why are they now just broadcasting it at present? because it is the time for election? and because these opponents do know that bayan muna is once again strong enough to own a seat in the house? well, satur has already shown himself through youtube. and all i can say is, satur, you rock!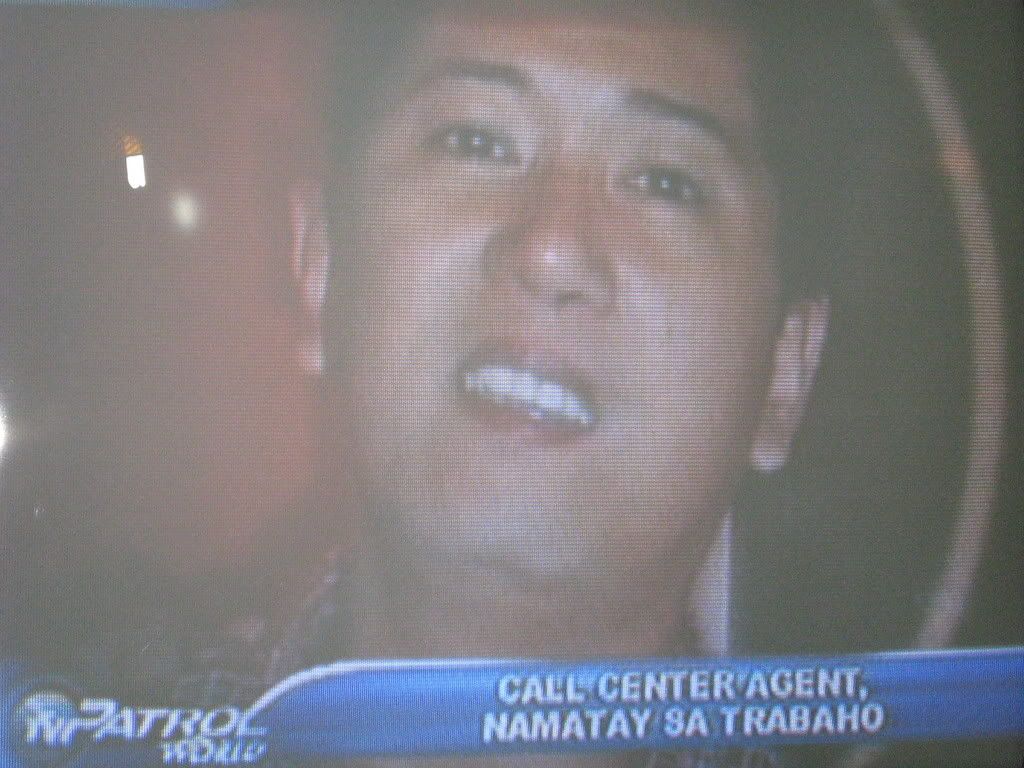 this guy is a call center agent. and the news said that he died because of the stress that he gets from his job. uh-oh. call center alert. still want to work in a call center now? haha. i've had enough of call centers. to all those who're working in call centers, all i can say is... (as john lloyd says) INGAT! as if biogesic would cure stress. haha.
atomicgirl
shared her thoughts at 02:07 pm
Permalink